2:56 am
:Music: Last Day of Term
New song up :)
A music track for the piano, clarinet and violin.
To me the song sounds like it'd be in an anime and the main characters are on their last day of school, looking back at the year they've had and looking forward to the summer hols.
Listen to it
here with a little Flash background. Or
download it
here.
Then tell me what you think ;)
3:54 pm
"The desert is a bleak, bleak place..."
New movie online :D
It's
1 min 20 secs
long
See it here!

It's doing well so far. It got the
daily 4th highest rated award
. It's the highest scoring and best reviewed flash I've ever done on Newgrounds :D
12:33 am
7.8.88 + 19 years =
What's this...?
It's Tommy's birthday!
*Evolution music from the Pokemon gameboy games plays*
...
*Turns 19*
Tommy has turned 19!
Conversation with my sister...
(12:04:33 AM)
Ockeroid:
I'm 19 now
(12:04:41 AM)
quipstertipster:
yayy
(12:04:42 AM)
quipstertipster:
wait
(12:04:44 AM)
Ockeroid:
Were's my present?
(12:04:47 AM)
quipstertipster:
i thought you were turning 18
(12:04:52 AM)
Ockeroid:
No. 19
(12:04:52 AM)
quipstertipster:
er i mean
(12:04:56 AM)
quipstertipster:
happy birthday!
4:13 pm
Only 3 RAYs?
I spoke to an old friend the other day. I asked him what he'd been up to...
"Not much. But I've been going through girls quicker then you can beat Metal Gear Solid on Easy mode"
7:31 pm
Don't Misunderstand!
I was asking people what kind of clothes men in their 40s wear to help me decide what kind of clothes Solid Snake would wear when not in his sneaking suit.
Alfie was on AIM so I decided to ask him...

Ockeroid:
What kind of clothes to people in their early-mid 40s were?
Ockeroid:
Because you are ofcouse an expert
Alfie:
why would I be an expert
Ockeroid:
Because I say so
Alfie:
this is not alfie by the way
Ockeroid:
Oh ok, hi not Alfie. Have I IM'd Alfie's home wile he's not there again?
Alfie:
yes...you are speaking to his father who is in his early forties and by all accounts very badly dressed most of the time
Ockeroid:
Ooh... Ok... now please don't take this the wrong way... but what are you wearing?
1:50 am
Making of: Manny Calavera Costume
Thought I should do a post on my Manny Calavera costume!
Made it for the cosplay contest at Video Games Live London 06. Unfortunately us cosplayers didn't get to go up on stage as there weren't enough of us and the guy had a sore throat :(
It was still really awesome non the less though. Everyone loved my costume. I got my photo taken at least 100 times. And loads of people actually wanted their photo taken _with_ me!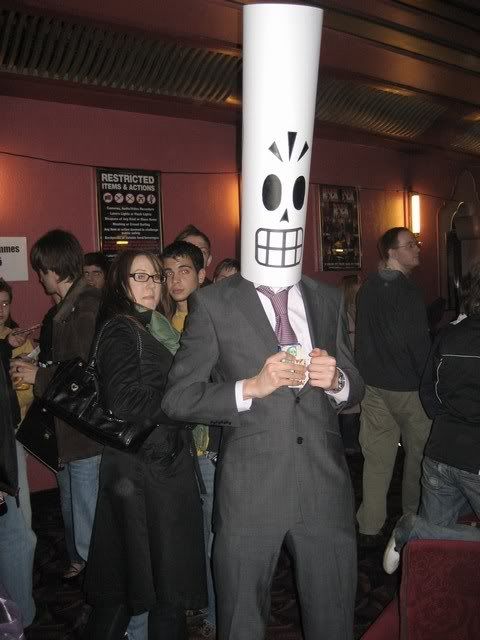 "I'm your new travel agent."
(
Buenos días
Collapse
)